Smart. Affordable. Flexible.
When we set out to design our new console, our philosophy was simple: provide a flexible platform that connects expert partners to provide solutions for every customer for today and into the future. Introducing the new OpenHub™ family of Cardio Consoles. OpenHub™ is a smart, affordable, configurable solution available on Star Trac® and StairMaster® cardio equipment. The best part is, you add (and pay for) only what you want, when you want. The future of club connectivity is here. The future is OpenHub™.
View all Openhub Products
ENTERTAINMENT
IPTV compatible, or browse the web or stream content from a personal device.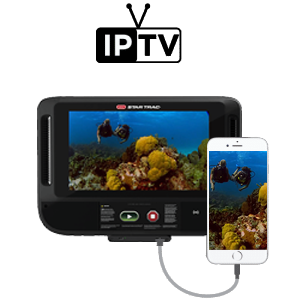 ASSET MANAGEMENT
Wirelessly monitor all your equipment in your facility.
FITNESS TRACKING / COMPETITION
Use data capture & leaderboards to track efforts in real time then save & share your results with the apps you use the most.
Our Console. Your Way.
The OpenHub™ family of cardio consoles offer solutions that meet the unique needs of every facility. The flexibility of the console allows for additional features to be added at any point, meaning you can get and pay for what you want, when you want it. No other manufacturer offers the affordable range of connectivity as StairMaster and Star Trac.
OUR EXPERT PARTNERS
Bluetooth Device Paring
GYMTRAKR
1. Download and open the Gym Trakr app.
2. Once on the main app screen, press the Bluetooth connection button on the OpenHub console located in the upper right corner of the console
3. Once pressed, the Gym Trakr app will automatically display a pop up message asking if you want to connect to the OpenHub Console. It will include a unique ID code that also shows on the console screen to ensure you pair the proper device. Once paired, simply start the workout on the machine and the app will automatically start to track your workout.
APPLE GYMKIT
OpenHub consoles marked with this icon
have the capability to connect using Near Field Communication (NFC) with Apple Watch (must be running WatchOS 4.2 or later and have option Detect Gym Equipment set to On in Watch settings for Workout App).
To connect, hold the Apple Watch near the icon on the console (this is where the NFC reader is located). When the display and Apple Watch detect each other, the Bluetooth button on the display will flash and then turn solid blue, and Apple Watch will ask user to confirm connection with the display.
Once connection is confirmed by user, it will finalize and data will begin to pass between console and Apple Watch. It is possible to make this connection either before the workout begins (recommended), or at any time during an active workout.
At the end of workout, the connection will be terminated.
CONNECTING TO OPENHUB
Note: When Apple Watch is connected, the Calories window on the console will display the watch-calculated values for both Total Calories and Active Calories